click on images for larger view if available.
Multi CH Sagonige Shoot'N The Brees At 74 Ranch-CGC,mHIC, SCT-I, M-I, V1 16 1/2 "

I ONLY WANTED YOU

They say memories are golden
well maybe that is true.
I never wanted memories,
I only wanted you.

A million times I needed you,
a million times I cried.
If love alone could have saved you
you never would have died.

In life I loved you dearly,
In death I love you still.
In my heart you hold a place
no one could ever fill.

If tears could build a stairway
and heartache make a lane,
I'd walk the path to heaven
and bring you back again.

Our family chain is broken,
and nothing seems the same.
But as God calls us one by one,
the chain will link again.

~ Vicky Holder (by permission)
---
IN LOVING MEMORY OF
"Drew"
MASCA and NAMASCUSA Champion
Owned by Don & Vivian Beard of Cheyenne & 74 Ranch
Bred by Sagonige Kennels, South Dakota
Return to Previous Page
---
2012 Show Record:
Drew went to the 2012 MASCA Nationals and got a Q in standard agility, his first trial ever! He got 2 Q's in both MASCA Rally Intro and Novice trials. He got 5th in Extreme Aussies Games! Great job Drew!

First time in Agility - 1st Place in 16" Jump Division. 2 qualifying scores in Introductory Rally and 2 qualifying scores in Novice Rally! YEAH, DREW!! Way to go!!
MASCA and NAMASCUSA Champion Sagonige's (Sa-go-nah-gay) ShootN the Brees at 74 Ranch (Drew): Born 1/22/10 AKC S.T.A.R. Puppy 11/2010; CGC 11/12/11; We are very excited to be a co-owner on this awesome black tri male. Beautifully marked, lots of copper, flawless movement, super structure and a fabulous personality-he's the "full package"! His entire litter evaluated as show/breed quality.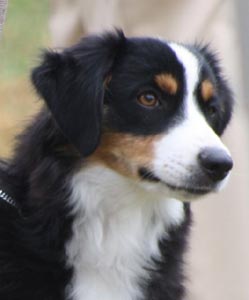 WICKET 16 1/2" and will size down those bigger girls. Drew has an awesome head and neck, super hocks and legs, with great structure thoughout! His pedigree is full of champions and he and sister EnV won brace at the young age of 8 weeks old at the MASCA Nationals! Handled by Rachel Hyer (Sagonige Kennels) South Dakota. Drew did well in his 2nd show too - NAKC in Colorado; winning 8 blue ribbons. On July 31, 2010 Drew won a best junior puppy in breed, Winner's Dog, and Res winner's dog at the NAKC show in Oregon. Drew won a Reserve Winner's Dog, best head type, and was still winning brace with his sister 5 months later at the WOWMASC show August 28, 2010 in Torrington with Vivian handling him. Drew did fantastic in Chicago in October, 2010, getting 5 WD and 5 BOW. Drew also got 2 RWD and 2 Best Movement with tough competition at the show in Cheyenne, Nov 20, 2010. Judge's say he's going to be a "show stopper" when he grows up! He became a champion before he was a year old. Drew's got his intro title in scent & find (5th place out of 30+ exhibitors), got Underdog award, passed his Herding Instinct Test at MASCA Nationals 2011 and is moving from conformation shows to performance events. He's quite aggressive on sheep, the tester said very nice young dog and to start training him! His mom and sister just passed their Herding Instinct tests too, so it's in the blood! He got his MASCA Intro Obedience title at the May 14, 2011 show in Torrington. Nov 12, 2011: Drew passed his CGC test and got 2nd in the first MASCA Acrobatics trial! Good Job Drew!!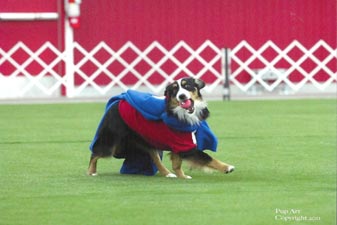 He sired his first litter the same month with IABCA CH Heartland Whispering Brooke. Drew's second litter with Ridgestar Bluegrass Grace of 4Paws (see our girls) is due 3/4/12. Watch for updates on him as a producer in the future!

NAMASCUSA and MASCA registered. PRA: n/M; MDR1:n/M; HC-n/n; CERF: clear; OFA: Prelim Good
Owned by 74 Ranch and Don and Vivian Beard. Drew lives with us here in Cheyenne. Thanks Michele for being such a great co-owner and for being my mentor.
Drew's Herding Instinct Test taken at MASCA Nationals 2011.
Email us to request pedigree information.