Click on the links below to view our dogs for sale
CH TIMBERLINE DEVIL N BLUE JEANS AT HHK CGC, V1, mHICs, I-M, RO-N, RO-I
"Blue"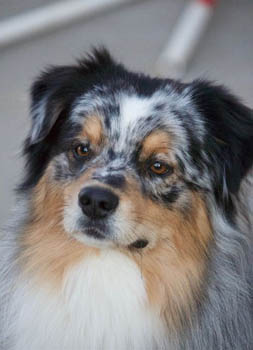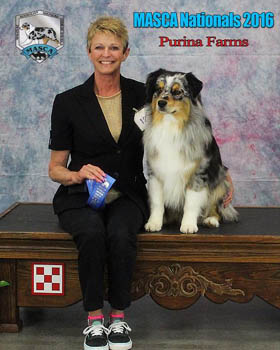 Blue Merle Male Born 9/20/14
AKC, MASCA and IMASC
MASCA Nationals 2016
HIT Disc Dog
HIL Intro Rally
HIL Intro Obedience
| | | |
| --- | --- | --- |
| | I am putting Blue up for adoption. He is a wonderful boy. Travels well, real laid back, personality is a little soft. I have taken him with me to horse shows all over the country and he is kind to everyone. BUT, He is protective of his property when at home. He loves to be with his people, so will jump a four ft fence to come find you. I have also put a top on his kennel(5 ft.) because he will jump that also, just to come find you to be with you. I would like a performance home for him and maybe someone who works from their home, but even if you don't want to compete, you must be willing to play frisbee or ball with him. He is an excellent disc dog. He is scheduled to be neutered Mar. 3. Blue is house broke, crate trained, loves a bath, you can Dremel his nails. He is up to date on vaccines and worming, microchipped, is 19" and weighs 40 lbs. NO SMALL DOGS in household. He plays hard with other dogs and may hurt a smaller dog. Please email or call if you are interested. gqtr@aol.com 307-631-2204 | |
The Miniature Australian Shepherd Club of America is pleased to have partnered with Paw Print Genetics to provide affordable testing for your dogs. Using discount code MASCA, save 20% off any order or 25% off two or more tests in the same dog, including disease tests, coat colors and traits, or 40% off the Miniature Australian Shepherd Disease Panel. Find your tests here: https://www.pawprintgenetics.com/products/breeds/39/ Place your order at https://www.pawprintgenetics.com/ or call them Mon-Fri 8am-5pm pst at 509-483-5950. This code is valid through December 31, 2016, cannot be applied to previous orders or combined with other offers. Discount excludes Parentage testing and DNA profiling. Be sure to use your discount code only for MASCA members at checkout!