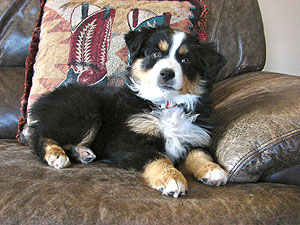 "So tell me, how do you turn this down?"
Don had wanted a Mini Aussie for a long time, as a friend of his had bought one a few years back and kept telling us how much he and his wife enjoyed their dog. So when Don's old dog passed, I bought him a Mini. Oh my gosh, look whats happened. We LOVE them. They go with us to the horse shows and fit in the back seat quite nicely. Fun personalities and LOOK they can work too. We kept telling the breeder we had bought our Mini from, just how much we really enjoyed him.
One day a few months later, the breeder, Michele Herbst of 74 Ranch Mini Aussies, called and asked if we would be interested in co-owning a show/breed quality male with her. She JUST HAPPENED to be in town and had this male with her, she could stop by and we could meet him, talk about what a co-own is and decide if we thought that might work for us. So tell me, how do you turn this down? ........ Well, we didn't! And the rest is history.
The Minis are so intelligent, their sense of humor is awesome and they have unwavering loyalty and affection. We are striving in our breeding program to maintain that great Aussie temperament, balance and type.
We do pre-breeding health testing of our breeding age dogs. Their hips are OFA certified by the age of two, eye's are CERF'd on an annual basis and PRA tested. We also MDR1 genotype test our breeding dogs. All this is taken into consideration when considering a mating.
Every puppy leaves our care with a written guarantee of good health. Also, when you pick your puppy up we will give you a puppy starter kit, a detailed packet containing what and how to feed, a record of current wormings and vaccinations, pedigree, and all paper work to register your new puppy. Come meet the Aussies! Visitors are always welcome!
DEPOSITS


To place a deposit on one of our puppies, a $200.00 down payment is required. We do not refund deposits because a puppy is not marked the way you would like or dependant on eye color. We DO refund if you put a deposit down on an unborn puppy and we do not get what you were wanting in that litter (sex, color, etc.) Or we can hold your deposit until the next litter. If for any reason we refuse to sell to you, your deposit will be refunded. If something happens to your puppy before you pick it up, your deposit will be refunded or you can choose another pup of equal or better value from the same litter or the next available litter. Deposits and purchases can be made on PayPal. We will accept personal checks for deposits as long as there is time for it to clear before the puppy is picked up or shipped. If the puppy is over 7 weeks old, payment must be received in full before shipment or pick up. Final payments are only accepted via US
Postal Money Order. First come is not necessarily first served. We like to be sure that the puppies personality and temperament will fit your family and life style. Please be sure to fill in the puppy application so we can help to match you and your puppy.
PLEASE BE SURE BEFORE YOU MAKE A COMMITMENT
It's so hard on everyone involved, especially your puppy, if it doesn't work out. Our contract says that we have first option back if you cannot keep your puppy. PLEASE, DO NOT send your puppy to rescue! We will help you find a new home or bring the puppy back home with us.
SHIPPING
We prefer that you pick your puppy up. However, we can ship on the airlines. You are responsible for shipping costs, health certificate and crate. Puppies can be shipped after 8 weeks of age. Fees must be paid in full, cleared and all contracts signed before shipping.
GUARANTEE
All puppies leave here with a health guarantee. See contract, email or call for more details. However, what we cannot guarantee is size, as the Minis are bred down from the standard Aussies. We can tell you approximately what we think their height will be.
We have the right to refuse a sale to anyone.
IMPORTANT HEALTH INFO
All breeds of dogs have genetic health issues associated with their breed. When choosing a puppy it's important to buy from a breeder that tests their breeding dogs. These puppies will be more expensive, but they'll be less likely to have genetic health problems. We want you to be aware of issues that can affect the Mini Aussies, so please visit the websites below for more information..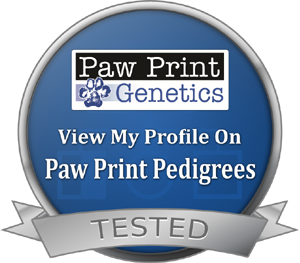 We also recommend PRIME PERFORMANCE NUTRITION supplements for your horses and dogs.
Maker of HEALTHY E OIL which we use for great coats both equine and canine
Find your tests here: https://www.pawprintgenetics.com/products/breeds/39/
Place your order at https://www.pawprintgenetics.com/ or call them Mon-Fri 8am-5pm pst at 509-483-5950.