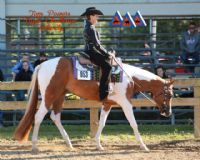 INVITE MONA LISA
Mona is doing well in the Western Pleasure and is started in Hunt Seat, Trail and Showmanship. Watch for this brilliant mare in the Farnum Super Stakes at the APHA World Show being shown by Tom Forehand and in the 2 yr old Non Pro Western Pleasure with Erin Gerhardt-Valois.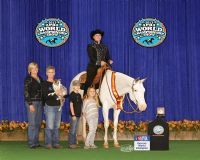 LILY WHITE SENSATION
January 4, 2008 - March 22, 2014 Everyone who met you, Lily, fell in love with the "WHITE" horse. I know you're enjoying greener pasture's and there is no more pain. You were so kind. I figure when you lay down to nap you have your head in the Lord's lap. You'll live with us forever in our hearts and our memories and we'll meet again one day. We trying to take good care of that handsome lad you left with us. It's been a challenge, but I think we're up to it. RIP Pretty Lily!