Click on the links below to view:
Puppies are here!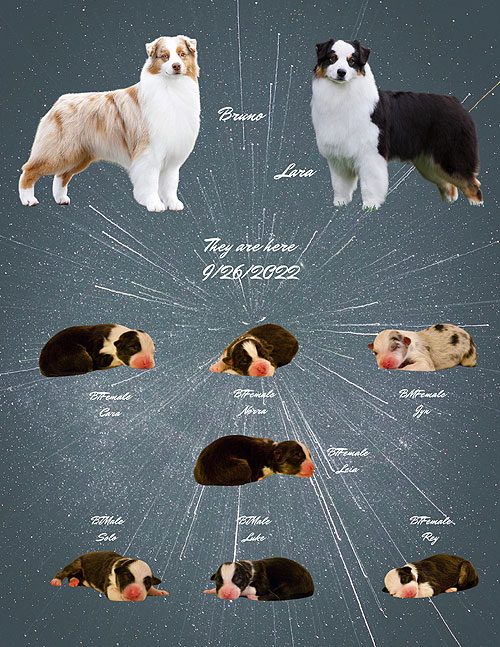 For more information about upcoming litters or to get on our reservation list,
please fill out our
puppy questionnaire.
***WE DO NOT SELL PUPS FOR BREEDING ONLY. All our pups that are sold with breeding rights will be placed only in serious show or performance homes and are required to earn a Champion title in either AKC or ASCA conformation or an earned Performance title in AKC or ASCA before being bred. All puppy tails are docked in compliance with the Australian Shepherd breed standard**
WE ARE EXCITED THAT YOU ARE CONSIDERING ADDING A HOT HOUSE PUPPY TO YOUR FAMILY AND JOINING OUR FUR FAMILY!
*Please read all the way to the bottom to answer most all of your questions*
Here at HHK we strive to breed outstanding Australian Shepherds that are an asset to the breed and a treasure to their families. Everyone of our puppies is special to us. A tremendous amount of time, research and thought goes into every litter and pup that we produce. With each litter we always plan to keep one or more pups to show and eventually breed to carry on our program. The rest of the pups are offered to loving forever homes.
We care tremendously for our pups' well being and their new families' happiness. This includes the responsibility of placing each pup in the correct home best suited for the pups' personality and level of energy. As the pups grow, we watch them carefully, we do temperament testing to see what type of lifestyle and home they will be best suited for and will thrive in. It is so important to match this breed's energy level/temperament with similar homes as it would be a total disservice to the puppy and the puppy's new family to do otherwise.
First and foremost we breed to produce outstanding individuals that are a benefit/asset to their breed, excel in conformation, performance and, most of all, in our hearts as wonderful family companions. All HHK dogs have had health screenings, genetic testing, hips/elbows x-rayed and passed by the OFA before they are bred. OFA's are searchable by going to their website and typing in the registered name of the dog. We believe getting a puppy should be a wonderful experience and we treat all potential puppy owners with respect and honesty as we would expect to receive. We offer continued support for our puppies and their families for the lifetime of each pup. We seek perfection thru selective breeding and striving to produce the perfect Aussie according to the breed standard. We want the best for ourselves, the puppy buyer and for the breed.\
If you decide we are the right breeder for you and go forward with getting on our Reservation List, here is what to expect from us:
You can expect an announcement email and photos of the pups within a week of the pups being born. You can expect updates at about 3, 5 and 7 weeks of age. We will tell you how they are doing and include photos with possible video. You will also get information about bringing your pup home. At 8 weeks of age (give or take a few days), the pups will be evaluated and temperament tested. After we decide which pups we will be keeping as show/breed prospects, the rest of the pups will be placed in order of deposits received. Our pups are well socialized, are introduced to crates, and started with housebreaking before they are sent to their new forever homes. The pups will be microchipped, come with their first set of vaccinations and will have multiple dewormings before they leave us.

Pet puppies are $2000 and are required to be spayed/neutered. We put tremendous love, time, dedication, effort, genetic testing, money competing with the parents to prove they are of exceptional quality and worthy of being bred, into every litter, please do not ask for a discount or reduced price.

**We require a $300 deposit to reserve a pet/companion puppy for you with the balance due when you pick up your pup.** If we do not have the perfect pup for you and your family, your deposit will be refunded. If you decide to buy from another breeder and do not notify us before the pups are 6 weeks of age, your deposit will not be refunded.

**Our show puppies are sold on an individual basis. We are selective on what quality we want representing our kennel in the show ring. We usually have a waiting list for future show pups. Please inquire for more information.**

We prefer people to come in person to pick up their pups as we would like to meet the pups new families. If you can not drive in, you can fly in and place the pup in a soft crate under your seat to fly home. I can ship but prefer not to.

Remember, getting a puppy is a 12-15 year commitment. Please take it seriously.
If you are interested in an HHK puppy, we would love to hear from you. Please fill out and submit the Puppy Questionnaire. This answers most of our questions we like to ask of our new possible puppy owners. After we receive your questionnaire we will be in touch as soon as possible. Remember to include your email and phone number as we will not be able to get in touch with you if you do not include them. If you do not hear from us in a couple of days, please call at 307-631-2204.
**Serious inquiries only.** Please understand that we ask lots of questions so that we can place the right puppy in the right home. We do not sell puppies based on eye color, markings or coat color. We place puppies on temperament first. However, we do try to keep in mind the desired traits that each person wants when placing our pups. Part of being the best breeders we can be is breeding to the AKC/ASCA breed standard. We do not leave tails on our pups. Please visit the AKC or ASCA website to view the entire breed standard.
Some Important Information About Australian Shepherds
Aussies require daily exercise to be happy and content, although some can be more laid back than others. There will be a mixture of energy levels and attitudes in any litter. It is very important when filling out your puppy questionnaire that you let your breeder know about your lifestyle and energy requirements when you are searching for a puppy. If you are a high energy, athletic person who enjoys the outdoors, hiking, jogging, etc., you will want a higher energy pup to keep up with you. If you are more of a couch and movie person, you will need a lower energy dog. It is better to find a dog that is temperamentally suited to your lifestyle than to try and choose a dog by color and gender alone.
I have had some people ask if a male or female is best suited for a pet/companion home. I believe you must evaluate each pup as an individual, as each pup will have an individual personality regardless of gender. Allow the breeder to help with the best choice puppy for you based on temperament and compatibility with your lifestyle. It is vital when committing yourself to a dog for the next 12-15 years.
I always try to socialize my pups and introduce them to small children. However, with that being said, it is very important that you teach your child/children the correct way to handle, interact and play with your Aussie.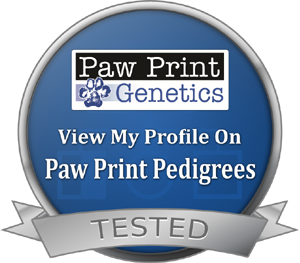 Please take a few minutes to learn about health issues that effect Australian Shepherds and visit the ASGHI website.
Find your tests here: https://www.pawprintgenetics.com/products/breeds/39/
Place your order at https://www.pawprintgenetics.com/ or call them Mon-Fri 8am-5pm pst at 509-483-5950.